Mylopotas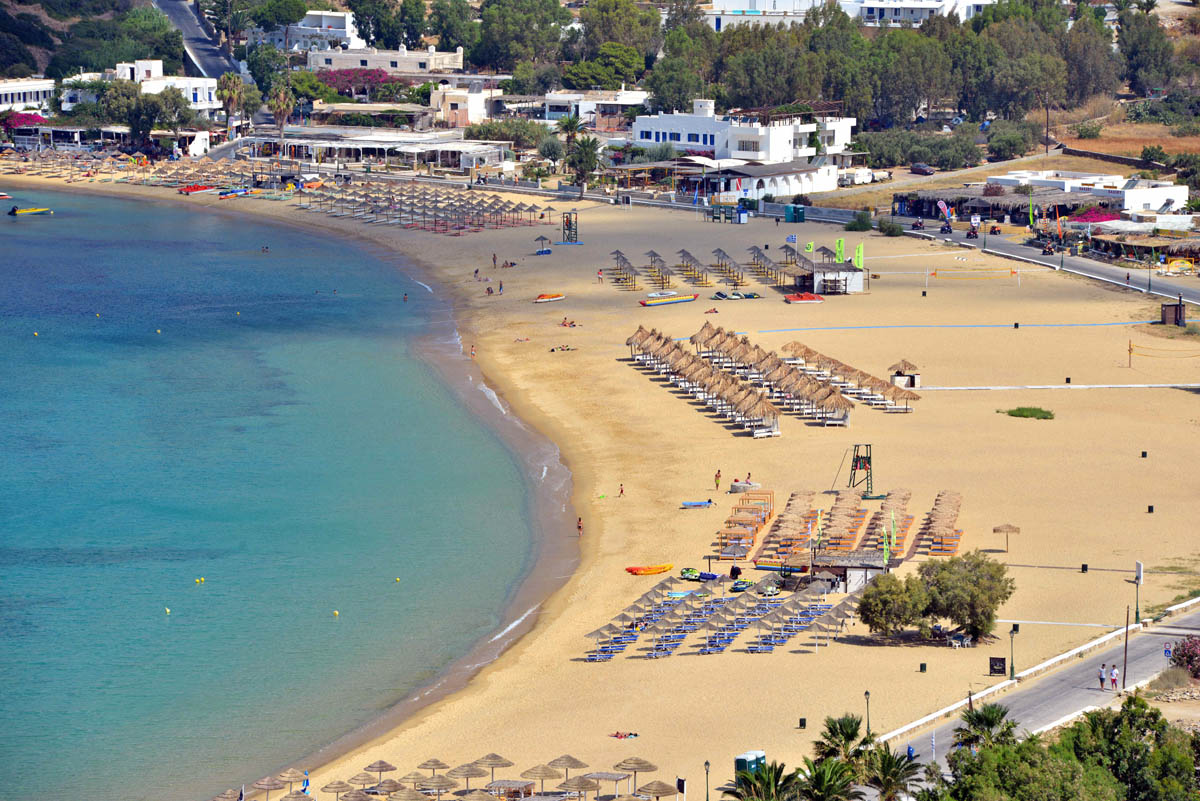 Mylopotas, the most popular beach of Ios, stretches in a kilometer-long fine, golden sand, and is blessed with emerald, crystal clear waters. The beautiful beach is fully organized, equipped with comfy sun-loungers and sun-shades, and has many water sports facilities for those who want to be more active. In the area, you will also find many bars, restaurants, taverns and a small market. The beach is perfect for relaxing, but after hours of swimming and sunbathing, taking in the invigorating energy of the sun and sea, you will surely get in the party mood! The beach club is the perfect place to get the fun going, reveling in a refreshing drink and dancing well after the sun goes down.
Maganari
Maganari beach, located in the southern coast of Ios, is formed by three coves that create a lovely lagoon with turquoise waters and is regarded as one of the most beautiful places to swim in the island. Protected by waves and wind, Maganari is ideal for some quiet time, away from the bustling crowds, where the waters are warm and crystal clear, and the sand is soft with a golden hue. The first beach is fitted with all modern amenities and conveniences, but the other two offer bathers endless moments of relaxation in a serene backdrop.
Agia Theodoti
Agia Theodoti is a favorite beach among the locals for its long expanse of sand, clear cerulean waters and traditional taverns surrounding the beach, serving mouthwatering gastronomical selections to visitors. This is a peaceful beach, offering many private moments by the sea, and its endless shore is surrounded by a tree bluff, providing enough shade to bathers. This exquisite swimming destination is also ideal to relax, while admiring the spectacular sunset.

84001, Ios, Mylopotas – Cyclades, Greece
Owner: Marcos Papadopoulos
Manageress: Jacqueline Papadopoulos
Tel.: +30 22860 91571
Fax.: +30 22860 91671
E-mail.:
info@marcoshotels.gr
MARCOS BEACH HOTEL, MHTE: 1167K012A0324400
TRAVEL MARCOS, MHTE: 0206E60000453400